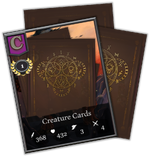 For a Complete list of all Cards, please see Encyclopedia of Cards.
Creature Cards are player cards that a mage may use in battles. They may have abilities that make them especially useful.
Each card has a set of stats that contribute to how it performs in a battle.
Attack
Health
Speed
Battle Points
Only six cards may be used in a battle, and they may be swapped with other creature cards before the battle starts.
The idea is to optimise the battle deck.
Beginner Cards
Edit
A level 2 Abyssal Satyr creature card is gained via the introductory combat tutorial as loot.
Each mage is then prompted to summon their first cards with a set of six cards from the starter deck called Ridley's Gift.
An eighth card may be gained if the player enters the name of another player as a referral; this card is always an Elite Wolfrider.
Card Ranks
Edit
Creature Cards have Ranks which may be
The initial deck of cards are all Rank C Cards and the player collects other cards through achieving Goals, competing in Events, or buying them.
Card Sets
Edit
Creature Cards belong to sets:
Card Management
Edit
Creature Cards may be enhanced by sacrificing other cards to raise their level or evolved into higher Rank cards by merging two of the same.  
The higher the level of the creature enhanced, the more expensive the cost of sacrificing a card to increase its level.  A card can gain levels faster by sacrificing higher level cards in the enhancement process.  For example, sacrificing a C+ card causes the enhanced card to level up faster compared to a plain C card.  A level 20 C card, when sacrificed, is a better enhancer card compared to a level 1 C card.
Creature Card Stats: Rank B
Edit
Work in progress - Needs Eternal Desert, Frost Spire etc.
Creature Card Stats: Rank C
Edit
Please see the page on Rank C Creatures for more detailed information.