Ad blocker interference detected!
Wikia is a free-to-use site that makes money from advertising. We have a modified experience for viewers using ad blockers

Wikia is not accessible if you've made further modifications. Remove the custom ad blocker rule(s) and the page will load as expected.
---

Welcome to Spellstorm Wiki
---
---
| | | |
| --- | --- | --- |
| Spellstorm is a popular CCG game available on iOS and Google Play created by "TinyCo". It has been available internationally on the iTunes store for free since its initial v1.0 release on October 24, 2012. Spellstorm is a card game where the goal is to build a deck using virtual cards, and harness powerful abilities and artifacts to defeat NPC and online opponents in card duels. It stands apart from other games in its genre by having fully animated vectors representing the cards on the battlefield. | | Although Spellstorm is Free-to-Play, additional in-game currency can be purchased for real money from the Apple App Store and Google Play Store in the form of In-App-Purchases. However, all features of the game are open to players who choose not to buy In-App-Purchases. |
The game was shut down in entirety on May 28, 2015 when TinyCo closed the servers. The app is no longer available.
---

Update v1.5
Magic orders now have strengths and weaknesses against each other.
Invite friends to your Spell Ring for exclusive rewards and combat bonuses.
Support for new future abilities.
Support for C and B evolutions in the future.
Performance improvements.
Bug fixes.

Heodan's Avatar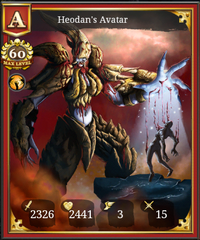 ---
We are of the same blood. For blood itself is mine.
---
Heodan's Avatar is the grand prize card for the Blood Haven events. She is a three-speed Primal Avatar, with the base ability Death Trap(I): When in play, can kill an enemy creature moving to the front line of battle. Chance: 30%
Her Max-Level Perfect Evolved AA+ stats are:
5852 Attack, 6142 Health, 3 Speed.

New Main Page Update! The main page has been completely revamped with a lot of new information, including a poll, latest update, this announcements box, new graphics, and more!
Now released: Encyclopedia of Cards! This is your complete guide to all of the cards in Spellstorm. Enjoy!
---

Which Event Grand Prize is your Favorite?